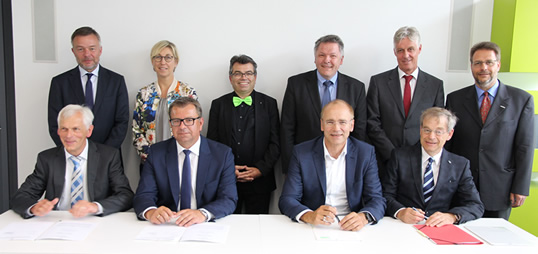 Impetus for a digital future – Rittal endows a chair for Industry 4.0
14.07.2017. Forging technological progress in the Middle Hesse region of Germany is a top priority for Rittal. This is why the world's leading provider of industrial enclosures and climate control systems is now coendowing a chair to focus research into Industry 4.0 at Mittelhessen University of Applied Sciences. Eight companies are investing a total of €800,000 over five years to promote practice-based research and teaching in this field.
ow is digitalisation changing industry? What challenges does it present? And what opportunities does the future-focused concept of Industry 4.0 unleash? These are just some of the key questions that an endowed chair at Mittelhessen University of Applied Sciences (THM) will be investigating from now on, thanks to special funding provided by Rittal and seven other companies in the region. A total of €800,000 are to be ploughed into five years of research into Industry 4.0 and digitisation. The President of Mittelhessen University of Applied Sciences, Professor Matthias Willems, says this is impressive evidence of the commitment that the region's top companies show to the THM.
The paperwork has now been signed by the companies' representatives, including Dr Thomas Steffen, Managing Director Research and Development at Rittal, who says: "The industrial environment is continuously changing in the direction of Industry 4.0. This leaves many questions unanswered, which the new chair at THM will be investigating."
The President of the THM has emphasised that the university is dedicated to preparing students for the digital revolution and the changes this will bring in their fields of work. He describes the aim of this research as to generate important impetus for local SMEs on their journey into the digital future. The institute's plans to focus research into Industry 4.0 form part of this drive. Rittal is supporting this initiative with the aim of tightening the links between industry and science.
The Friedhelm Loh Group has now been collaborating with the THM for more than 15 years through its involvement in the StudiumPlus programme. "We are highly committed to fostering up-and-coming talent," says Dr Steffen, "as these young people will help us to forge our success in the future."