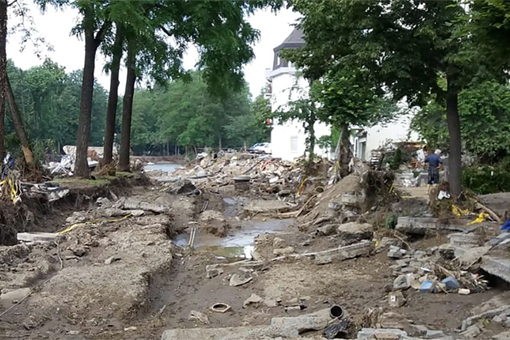 Friedhelm Loh Group donates record sum of 930,000 euros to flood victims
03.09.2021. The images are unforgettable: a few weeks ago, torrential rain in parts of Germany led to major flooding, causing almost unimaginable destruction. The owner and employees of the Friedhelm Loh Group were united in wanting to help. They rapidly collected a total of 930,000 euros – more than ever before in the company's long history of donations. The money will be made available quickly and unbureaucratically to programs designed to aid schools and kindergartens, youth work and support for the elderly, as well as to private persons via official donation accounts.
In mid-July, we witnessed footage and photos of terrible scenes following exceptionally serious flooding in the states of Rhineland-Palatinate and North Rhine-Westphalia. Strong rainfall caused huge flash floods, leading to more than 180 deaths and damage in the billions of euros. Many families, as well as schools, kindergartens, and many non-profit organisations lost many of their possessions and assets, and now face months of clean-up and restoration work.
As a family-owned company, it was clear that the Friedhelm Loh Group would support those people in need. Employees showed exceptional generosity, raising a sum that was then tripled by Prof. Friedhelm Loh, owner and CEO of the Friedhelm Loh Group. This was augmented by donations from members of the Loh family. In total, these efforts quickly raised 930,000 euros for flood victims. It is the highest amount donated in the company's history. Prof. Friedhelm Loh expressed his thanks to all employees for their solidarity: "You have sent out a clear and moving message: that you empathise with the victims and that you are willing to help the people now in a dramatic emergency situation." Additionally, many employees themselves travelled to the areas impacted to provide on-site assistance, or organised relief programs. As Prof. Friedhelm Loh emphasised: "Your actions are exemplary."
Support in the crisis regions
The company is distributing the funds via the charitable Rittal Foundation of the Friedhelm Loh Group. The donations will be shared amongst projects and local non-profit organisations to help kindergartens, schools, youth work and support for the elderly. To this end, the foundation is in close contact with local people to gain insights into the degree and type of damage incurred, and to identify what form of aid is required and what purchases need to be made.
Recipients include kindergartens in Leverkusen, the Philipp Freiherr von Boeselager School in Ahrweiler, the Paul Klee School in Leichlingen, the Lebenshilfe care home in Sinzig and the Caritas church-led charity in Euskirchen. The financial aid will enable them to repair flood damage, to acquire vehicles to transport goods or school students, and to rebuild playgrounds. There will also be assistance for specialist advice and psychological counselling. In addition, a share of the donations will be given to accounts set up by local government agencies, churches and aid organisations, therefore helping private persons in a direct and timely manner.
Helping the wider community
Responsibility for the community has been a core value of the Friedhelm Loh Group since the foundation of Rittal 60 years ago. That each and every individual counts is underlined by the traditional annual donation for regional institutions and international aid organisations. In recent years, employees and management have collected more than five million euros.
Since its establishment in 2011, the Rittal Foundation has used the income from its assets to support non-profit organisations and projects in education, church-based welfare work , integration, culture and science. It has already provided more than two million euros for good causes. "We are grateful for having a good life. It is a gift. That is why we are passionate about helping people who are in need. We all bear a responsibility for the community in which we live," states Prof. Friedhelm Loh.