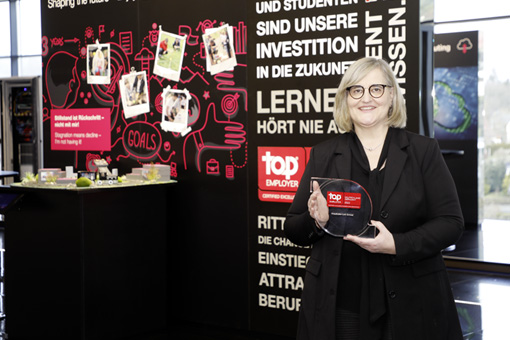 "Top employer" for the digital future
17.03.2022. According to the Top Employers Institute, the Friedhelm Loh Group is one of the best companies in Germany to work for. The company has now received the coveted award for the fourteenth time in a row. The award honours the attractiveness of the family-run enterprise as an employer.
The well-known Top Employers Institute has named the Friedhelm Loh Group with Rittal, Eplan, Cideon, German Edge Cloud, Stahlo, LKH and Loh Services – as one of "Germany's Top Employers" for the fourteenth year in a row. Certification as a top employer is based on uniform standards that closely examine human resources work and related areas and check them against strict criteria. The evaluation covers six areas of Human Resources made up of around 20 subjects, including HR strategy, talent acquisition, learning, and integration. The results of the assessment also provide important impulses for further developments in HR work to continuously improve employee conditions and strengthen employer attractiveness.
Kerstin Sänger, Head of the HR Processes and Recruiting Department, says with gratitude: "We are delighted about this award, which also represents an obligation for us. We want to keep on offering our employees the best possible conditions in the future. The past two years have been very challenging for us all. However, we are grateful that our employees are highly committed, do their best every day, and breathe life into our corporate values."
Creating perspectives for employees
Placing employees at the centre of corporate responsibility, both regionally and worldwide, is in the family-run company's DNA. For the corporate group, this primarily means facing the challenges of the changing world of work in times of digitisation and trying to sustainably align the working lives of employees with this.
One crucial building block, for example, is the all-embracing introduction of the "Digital Workplace" which – as a central work platform – facilitates cooperation and the exchange of information for employees in their everyday work. At the same time, the Friedhelm Loh Group has a "lifelong learning" approach to promoting digital and industrial transformation in partnership with its employees. For instance, the Learning Management System already introduced will be rolled out in the 94 international subsidiaries so that the step towards "digital learning" can be taken together worldwide. The benefit for employees is that they can discover what this system has to offer independently and gain further qualifications at their place of work.
From employees to customers and people in their surroundings – values such as cooperation, responsibility and commitment are a top priority in the Friedhelm Loh Group. Specialists and young professionals alike expect a wide range of development opportunities and international career prospects as integral parts of their everyday working lives. A total of 230 junior staff are currently studying in the Friedhelm Loh Group in 15 apprenticeships and 11 dual study programmes. They are supported by its training facility, the Loh Academy, with its many qualification programmes.