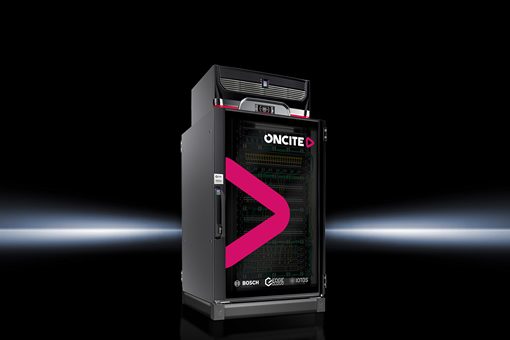 German Edge Cloud, Bosch Connected Industry and IoTOS provide a comprehensive solution for an industrial ecosystem
German Edge Cloud, part of the Friedhelm Loh Group of companies, is presenting the "ONCITE" industrial edge cloud appliance together with Bosch Connected Industry, IoTOS and Rittal. With this all-in-one solution, manufacturing companies can now extract concrete added value from their production data. Some specifications already exist, e. g. car manufacturers such as Volkswagen or BMW have launched digital platforms such as the Volkswagen Industrial Cloud or the Open Manufacturing Platform. These allow manufacturers to track data along the entire supply chain. ONCITE is a solution that meets the growing need for real-time data availability with a scalable edge cloud data centre from German Edge Cloud and Rittal. It is located directly on site in the factories, in other words precisely where data is generated. Thanks to industrial applications from Bosch Connected Industry, German Edge Cloud and IoTOS, new technologies such as industrial analytics and AI can improve quality, as well as optimise costs and throughput in manufacturing. This creates a holistic ecosystem for manufacturing industry – linked together with strong industrial and research partners.
In ONCITE, the manufacturing and automotive supplier industries now have a comprehensive high-availability and turnkey solution to meet the latest requirements of automobile manufacturers, along with a solution for their own digitalization projects.
"Automotive suppliers currently face a major challenge. VW and BMW recently launched a digitalization initiative by setting up their own digital production platforms," explains Dr. Sebastian Ritz, Managing Director of German Edge Cloud: "The suppliers, with up to 100,000 factories, need to be adapted to these as well as to the subsequent platforms of the other car manufacturers and top tier suppliers. However, suppliers want to retain control of their production data without risking their supplier status. They need an affordable 'plug-and-produce solution'."
In the automotive supply chain, ONCITE enables secure data exchange across the supply chain with the upcoming digital production platforms of the manufacturers and top tier suppliers. Besides this, the solution – with its industrial applications from Bosch Connected Industry, German Edge Cloud and IoTOS – forms the basis for implementing Industry 4.0 applications so that factories can be digitised even further.
The data remains on site: short latency times for AI applications
The real-time ONCITE is based on a highly available and scalable edge cloud data centre. The ONCITE data centre from German Edge Cloud and Rittal is located in the factory. The data is consequently recorded, stored, processed and evaluated rapidly and locally.
"By holding all the data on site, the user retains full control and decides whether and how to transfer the processed data to the various digital production platforms of the OEMs and top tier suppliers. IoT platforms such as SupplyOn or Siemens' Mindsphere can be used to store data and to exchange production-relevant information with customers and suppliers while control over data is maintained," explains Dr. Ritz.
The scalable edge cloud system can capture machine mass data and harmonise it across machines in such a way that AI-based production optimisations can be applied. This improves quality and optimises costs and throughput in production. The edge technology that processes the data directly at the point of origin permits minimal latency times, which are necessary to implement many Industry 4.0 and IIoT applications.
Quick to deploy, scalable and open
The industrial applications from Bosch Connected Industry, German Edge Cloud, IoTOS and Rittal can be used precisely to meet requirements that are defined but also process-specific. "With ONCITE, the operator very quickly has a solution and significantly lower costs for integration into the existing factory IT environment and for subsequent operation," says Dr. Ritz, describing the advantages. He continues: "As requirements grow, additional services and computer performance can be quickly integrated or added. The solution offered includes a scalable edge cloud IT infrastructure, an open IIoT platform, as well as off-edge cloud usage and full service."
Processing chains from the edge to digital production platforms can be mapped at any time. This is based on Hyper Scaler public cloud infrastructures via the multi or cross-cloud management implemented by German Edge Cloud.
With ONCITE, customers receive a full managed service that includes a hardware infrastructure. This guarantees the high level of availability and scalability required for industrial software applications at operating costs that medium-sized companies can afford.