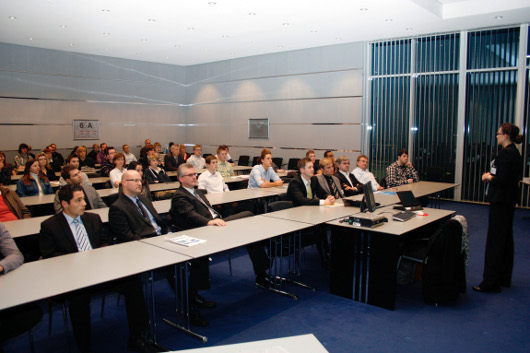 School's out – what next?
05.12.2011. Around 60 young people attended an info fair organised by the Loh Academy at Rittal in Herborn under the banner "Training and 'StudiumPlus' with the Friedhelm Loh Group (F.L.G.)". This great response was once more proof that the companies forming the group are attractive potential employers for many school-leavers. The F.L.G. group is currently still able to offer a number of vacancies.
Stefan Beck, head of the Loh Academy, and Katharina Wenz, who is responsible for the so-called "StudiumPlus" programme, provided in-depth information on vocational training and study opportunities within the Friedhelm Loh Group. Stefan Beck greeted his young guests with the words: "We would like to answer the all-important question which is no doubt on your minds, namely: What opportunities do I have once I have finished school?"
A promising career start is presently offered in a total of 17 different fields, for example in technical product design, industrial office administration, warehouse logistics or IT system integration.
The training programmes at F.L.G. offer far more than is included in conventional vocational training: The trainees are able to attend additional English language courses, seminars on presentation techniques and special classes in preparation of examinations. External workshops at Gnadenthal Abbey promote the further development of soft skills such as team spirit and communication. Independent work in the junior companies"Big Little Rittal" and "Ri2Youth", involvement in trade fairs and – for the exceptionally talented – even assignments abroad or participation in trainee competitions are similarly ideal development opportunities.
To cater for school-leavers with otherwise limited placement chances, a one-year period of practical work experience is offered as a springboard for subsequent vocational training. Particularly able trainees are also enabled to obtain an advanced-level school certificate parallel to the training course.
Those who already hold a university admission qualification when they leave school are furthermore entitled to join the "StudiumPlus" programme, a three-year sandwich course leading to a Bachelor degree in cooperation with the Mittelhessen University of Applied Sciences. F.L.G. provides sponsorship for studies in three fields: Engineering management, engineering and business administration. The interweaving of theoretical learning at the university with practical phases in the company ensure optimum preparation for all future career demands. Further benefits for the students are monthly grant payments, periods abroad, project assignments and outstanding job prospects. The latter point is underlined by the fact that over 90 per cent of the students are taken on after successful graduation.
Stefan Beck closed the day with two sentences summing up the excellent opportunities: "The Friedhelm Loh Group continues to grow. We are thus on the lookout for future generations of specialists with whom we can shape a successful future together."
Over 1,200 applications were received in 2010 alone. Of these, 97 young men and women were able to begin their vocational training at F.L.G. member companies in August. With a total of 277 trainees and thus a trainee ratio of 5.3 per cent, the group companies Eplan, LKH, Loh Services, Rittal and Stahlo together defended their title as the largest vocational training provider in the region in 2011, too. Between 2001 and 2011, already 71 students successfully completed a "StudiumPlus" course sponsored by F.L.G.