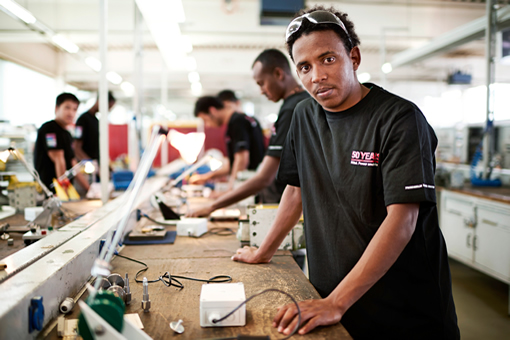 Pilot project offers refugees unique skills development opportunities
11.08.2015. The number of refugees arriving in Germany is at a 20-year record high. They are seeking to escape political persecution, terrorism, war and hunger. They wish to live and work in Germany, but face considerable obstacles. They generally do not speak the language, their qualifications are often not recognized, and they struggle to cut a path through bureaucratic red tape. Against this backdrop, the Friedhelm Loh Group has joined forces with the Region of Lahn-Dill (where the company is headquartered) to launch a unique initiative – with the aim of creating opportunities for refugees by helping them to acquire marketable skills.
When asked what Germany means to him, Khaibar Fatehzada replies: "The best thing is that I can learn and live in peace." The 26-year-old Afghani lives at a refugee centre in Dillenburg, in the State of Hesse, and until very recently had few prospects. He had completed training in retail management in his home country, and his German is good – he can read, speak and understand the language well. However, he remains frustrated with his pronunciation, and is concerned he is not making sufficient progress.
There are many people like Khaibar Fatehzada living in camps and refugee centres in hope of receiving news that they can remain in the country, seek work, and build new lives. But it is difficult without corresponding qualifications or a contract of employment. In view of these challenges, the Friedhelm Loh Group and the Lahn-Dill Region have launched an educational initiative aimed specifically at this target group. In July, eight highly motivated young refugees successfully completed a three-month internship at Rittal, the largest member company within the family-owned Friedhelm Loh Group. With the support of dedicated instructors and mentors, the interns have acquired sufficient hands-on experience to commence a recognised multi-year training programme. The project is very much a win-win: two of the refugees will be joining Rittal for their training – and the others now have documentation and knowledge that will serve them well when applying to other companies for similar skills development courses.
"As the largest employer in the region, we feel a sense of responsibility toward our local community – and at present, that community is faced with a large number of people in need of new, peaceful home," states Friedhelm Loh, owner and CEO of the Group that shares his name: "We are glad and grateful to be living good lives in a country free from war and hunger. And we wish to make it possible for refugees to enjoy the same advantages. The best approach is offer them job opportunities that give them courage and confidence."
The mentoring model: knowledge transfer and friendships
"Currently, there are around 2,000 refugees living in Lahn-Dill Region. This is significant challenge for local government agencies," explains Wolfgang Schuster, a member of the regional parliament. "The Friedhelm Loh Group project prepares young refugees for a recognised training programme, and offers them a path to greater independence. It is an excellent initiative. The region is at present home to 90,000 people in paid employment. By 2030, the number of residents of working age will have dropped by 30,000. As a result, we need controlled immigration; otherwise, our economy is at risk."
Over a period of three months, refugees attended the Rittal training centre in Eschenburg-Wissenbach, acquiring knowledge that prepares them for one of Germany's multi-year training programmes; they gained hands-on experience of basic principles of machining and electrical engineering, and work-related language skills, taught via whiteboards in dedicated classrooms.
Mirco Burbach, 22, is himself a trainee, and a designated Rittal mentor for the interns, including Khaibar Fatehzada. He has relished passing on his own knowledge to the highly motivated and ambitious refugees: "I have enjoyed working with them; I was able to help, support and guide them in a number of ways." When the interns encountered problems with the machining equipment or with the curriculum, they felt comfortable approaching trainees for assistance, and were less concerned about making mistakes with their German. In fact, regular communication with German colleagues has helped them overcome a number of linguistic barriers – and has led to genuine friendships. Fatehzada's eyes light up as he reports that he and a Rittal trainee play football together every Saturday. He is already a member of a local football team, and is soon to receive his official player's ID card.
Poor language skills are a major challenge for both refugees and their instructors. To tackle the problem, the Friedhelm Loh Group seconded a German teacher from their in-house education facility, the Loh Academy, to the Rittal centre for interns and trainees. She now coaches refugees with their grammar, conversation and work-related vocabulary – to help them better understand man and machine. As Eyobel Gebreyesus explains, "during the week, we make a list of the words we don't understand, and we discuss them in class." The 26-year-old is a refugee from Eritrea, and is enjoying his internship at Rittal. His daily commute involves two buses interspersed by a train ride: "My dream is to stay on, and work at Rittal. The people are friendly, and we have our freedom."
A concept for the future
Andreas Tielmann, Director of the Lahn-Dill Chamber of Commerce, believes the concept is real step forwards: "We are going to encourage other companies to follow suite, and to initiate their own internships and skills development programmes for refugees." The pilot project has provided important insights into the key requirements. There is a need for language tuition, and it must be feasible for the intern to commute between the company and their home. A qualified teacher is made available by Lahn-Dill Region for the duration of the project, liaising with both interns and employers. But in light of the scale of the task, Tielmann believes that financial and human resources need to be provided by the State of Hesse.
Together, the Friedhelm Loh Group and the Lahn-Dill Region have found answers to these issues, and developed a number of recommendations. So companies wanting to follow their example will not be starting with a blank page.
The Regions of Lahn-Dill and Limburg-Weilburg collaborated with the Society for Economic Development, Training and Employment Initiatives in Wetzlar (GWAB) to draw up guidelines on how to analyse potential opportunities and to develop skills: These were described in a document submitted to the State of Hesse as part of an application for government funds. As Stephan Aurand, Chairman of the Supervisory Board of GWAB, explains: "Drawing on the experience gained with the Friedhelm Loh Group pilot project, we have succeeded in developing a coherent concept for the future. We want to help refugees in our community gain better access to the job market, and by turn, the opportunity to improve their lives."
The concept is designed to identify personal potential, to nurture natural talent, and to promote skills development: Although the pilot project has now been concluded, the initiative will be continued. Khaibar Fatehzada and Eyobel Gebreyesus will also be taking the next step: in September, both will be commencing training programmes at Rittal – their dreams have come true. And although both have endured traumatic pasts, they can now look to the future with optimism.