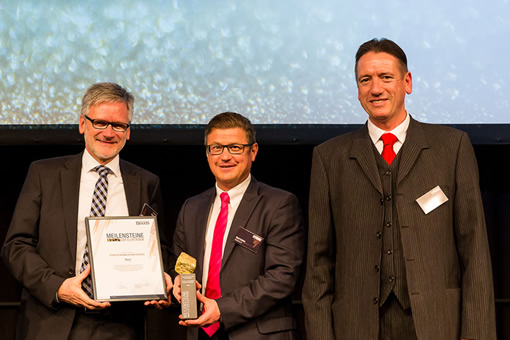 Rittal honoured as an electronics pioneer
07.07.2017 Rittal has been recognised by trade magazine "Elektronikpraxis" as a "Milestone in Electronics". In the context of the magazine's 50th anniversary, the world's provider of industrial enclosures, power distribution, climate control and IT infrastructure won the award in the category of enclosures and climate control. The jury praised Rittal's decisive influence on Germany as an industrial location and its groundbreaking technologies.
The abilities to look both back and into the future were the decisive characteristics that enabled Rittal to impress when the "milestones of electronics" awards were handed out. On the occasion of the fiftieth anniversary of the "Elektronikpraxis" trade publication, the journal paid tribute to some 20 leading companies in the electronics industry for their services and solutions that are defining Germany as an industrial location. Rittal, a family business with a long-standing tradition, which develops energy-efficient products and intelligent value chains for the future, made a great impression on the jury. "Technology is changing rapidly. And electronics is its turbo-drive for innovation," said Johann Wiesböck, editor-in-chief and publisher, outlining the significance of the companies so honoured.
During the magazine's selection process, a jury of trade journalists intensively researched and discussed the most important people in the companies, their greatest achievements and their progress today. The most important aspect was the major role that the companies concerned play in Germany. Rittal is the most important milestone in the category of enclosures and climate control, according to the jury. The inventive spirit of Rudolf Loh, the founder of Rittal, and the consistent growth of the company brought about by his son Dr Friedhelm Loh had marked the beginning of standardised enclosure manufacturing. Rittal succeeded in achieving a further quantum leap towards greater efficiency and environmental protection when converting all its enclosure cooling units to innovative hybrid technology and CFC-free refrigerants. Today, the world market leader is developing efficient workflows in production that save time and money. "Today it is also important to us that our cooling units consume less and less energy and save carbon dioxide", said Ralf Schneider, Head of Product Management and Business Development Climate Control at Rittal: "Our cooling units offer our customers cost-effective solutions and make an active contribution to climate protection."